Little to No Experience: Internships And How To Find One.
You're in your 3rd year or last year of your post-secondary education, perhaps you even graduated. Now you sit and wonder how to get experience in your field. You ask yourself, how do I get an internship if I have little to no work experience?
The question most often asked by young job seekers, "how can I get a job in my field if an entry-level position requires 2-3 years of experience?"
There are 3 areas to focus on while looking for an internship:
Researching the Labor Market
Resume and Cover Letter
Networking

Researching the Labor Market
When researching the labor market, you must collect data and answer the following questions:
"What skills and strengths can I offer as an intern?"
"What skills do I want to learn and develop?"
"What type of company do I want to work for?"
"What companies are currently looking for interns?"
When you answer these questions, you will start narrowing down your internship search – this will allow you to focus on what you want instead of being distracted by the endless number of internships out there.
Make sure to conduct research on the companies that are currently offering internships. Dig deep into the company and think about whether the culture aligns with your values and interests or not. The last thing you want is to start an internship to later find out that the company does not foster a good educational environment or treats their employees poorly. Trust me, I've been there.
Once you have shortlisted companies that you would like to intern for, ask yourself, "Why should this company pick me as an intern? And What value would I bring to this company?"
Now that you know what you bring to the roles and what companies you are targeting, it is time to start taking actions towards securing that internship.
Resume and Cover letters
"Avoid a list of tasks and responsibilities, and instead, include quantifiable, specific accomplishments…"
Now the question is, "how do I demonstrate value and my accomplishments if I have little to no experience?" Instead of focusing on what you don't have, focus on what you do.
Volunteer Work
If you have volunteer work, then just include it in your Work Experience section. Whether you were paid or not to do the work, you still have that experience to leverage. Focus on the accomplishments and value you brought while you were volunteering.
For example:
"Provided effective individual/group mentoring to high school students from lower-income families to develop transferable skills (empathy, decision-making, problem-solving and interviewing) through design thinking activities"

Education
You have done multiple projects and presentations while completing your education. Therefore, focus on how it relates to the internship.
"What role did I play in the group project?"
"What was the result/value of the project?"
"Did the project provide solutions to a real-life problem?"
Make sure that your resume and cover letter demonstrate and focus on what you have and how it will help the company instead of what you don't have. Keep in mind that online applications should not be the only way you look for an internship.
Networking
Being a student is one of the best positions to be in when you start networking or, as Kaylee calls it, relationship building. Networking plays a BIG role in any job seekers' search. So why wouldn't you leverage the fact that you are a student?
Conduct information interviews. Identify hiring managers, people in your ideal job, and in your ideal company. Connect with them on LinkedIn and do some research on them. Then ask them
" Hi [Insert name],
My name is ___________ and I am a student at [college/university] studying [name of program]. As I continue my studies, I am looking for professionals to help me learn more about the field of __________.
I came across your profile and noticed that you [pick 3 things that you learned about the person]. I would love to learn more about your journey and what it takes to work at [insert company's name] I hope you will be able to help with learning more about this field.
I am sure you are busy, so even 20 minutes of your time would be very much appreciated. Looking forward to hearing back from you.
Sincerely,
[insert your name]"
After conducting 6 informational interviews in the last 3 months of my certificate – I suggest that you use this technique to help you build a solid network, and to discover some amazing internship opportunities.

Now what?
Now based on the information you were given, lay out an action plan, do your company research and prioritize networking over online application. A solid action plan will make your search more effective and focused.
The length of your search will depend on how active and effective you are. If you want to get noticed, put yourself out there. If you are still lost, invest in yourself and hire a career coach. Some job seekers need someone to show them the way and keep them accountable. If that's you, chances are the cost of hiring a good coach will benefit you in the long run.
Focus, make the effort, and don't let the search get you down!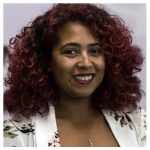 Follow Marie on social media!